Welcome to the homepage of
Fanfarenzug Ottheinrich
Neuburg an der Donau

We have devoted ourselves to historical flourish music as well as the care of the history and the traditions of our beautiful hometown "Neuburg an der Donau". And you know what? We're having a hell of a good time in doing so!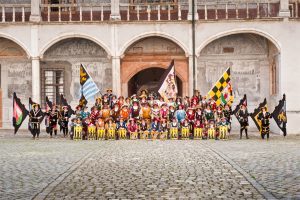 The high approach of young people for our association proofs that in today's society values like companionship and tradition still exist. We don't play modern rock music, at least not during day-time but still, we got the rhythm that'll make you move. If it caught you once it doesn't matter how old you are.
We don't wear bulk production uniforms, we carry doublet and cap hand-made by our local master tailor and no costume matches the other, just as it behoves for a lansquenet. We play native flourishes without valves, no bugles, we don't play on marching drums but lansquenet barrels and the bars of our banners are made out of proper wood and not aerospace tested synthetic material but still they fly sky high!
You will have noticed: we care for our quality and individuality without being old fashioned traditionalists. "Keep up with the tymes" said our earl Ottheinrich (1502-1559). "Keep up with the times" – which is our aim as well, without losing or forgetting our identity. For all of this, it takes real personalities and of those we have got loads!!
Curious? Then please take your time to thumb through our site. Feel free to stroll in….!
Michael Bachhofer
Vorsitzender